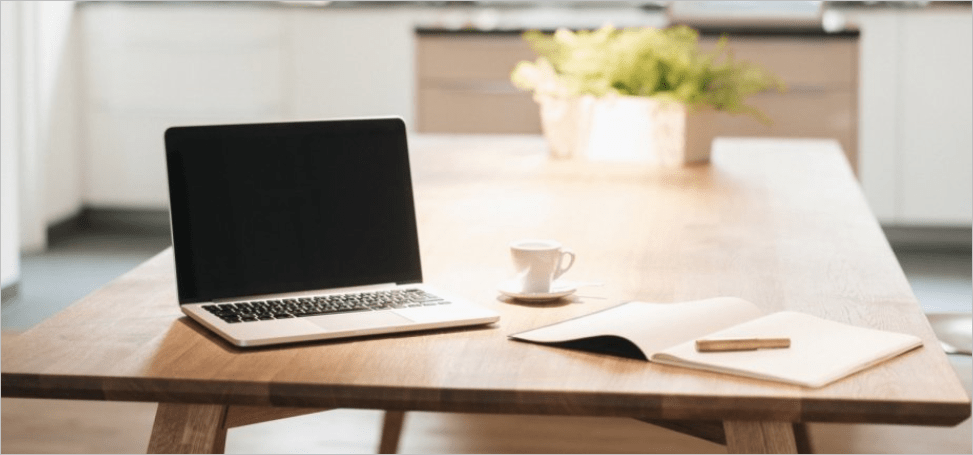 Those 3 magical words: Working From Home. The ability to sleep in every morning, skip peak hour and work in your PJ's.
That's the dream, but does reality match up to the hype? Can you really be as productive in PJ's as you are in business attire?
In August of 2019, I embarked a new role at a company who's head office is based in Melbourne, Australia.
Today, I work alongside 4 others here in Sydney, as well as the broader team in Melbourne. Although one is currently being built for us, we don't currently have an office to call our own. Because of this, for the past 7 months I've been working from home 5 days a week.
Here's what I've learned.


A new way of working
I'd worked from home before in previous roles a few days a week, but this was different. Suddenly, I'd gone from being surrounded by people, noise, office banter, good coffee and .. terrible traffic to suddenly being by myself.


Staying connected to colleagues and customers
My role is all about enabling businesses to adopt a more modern way of working – being able to work from where ever and when ever you need to.
You've heard the phrase "eating our own dog food" – when you use the very same technology that you sell to your customers. Well, I was certainly going all in with working remotely – practicing what I preached.
To be able to effectively work remotely – whether its from home or from a coffee shop, I've found that you need 6 things at an absolute minimum:
A comfortable place to work
The right tools for the job
A change in culture that promotes working from home
The need to keep an eye on health – both physically and mentally
Managing distractions
Other options for social interaction


Setting myself up for work
As i'd previously only worked from home every now and then, I didn't have a dedicated space for work set up in my apartment. The couch or kitchen table acted as my temporary desk. Sure, it wasn't the most ergonomically sound setup, but it did the job. 
Working from home full time meant that I needed a place in the apartment that was dedicated to work. This sounds as simple as buying a desk and sitting your laptop on it. Boy, was I wrong.
The space
I had initially set my desk up in the back room of the house overlooking our garden. This was great for when I was home by myself, but didn't work when the girlfriend was home too. The room had no door, and was directly across from our lounge room meaning I was easily distracted by the TV.

Relocating my desk to a quieter room was the answer. It had a door which I could close and be "at work". It was away from the distractions of the lounge room and quiet enough to take calls and focus on work.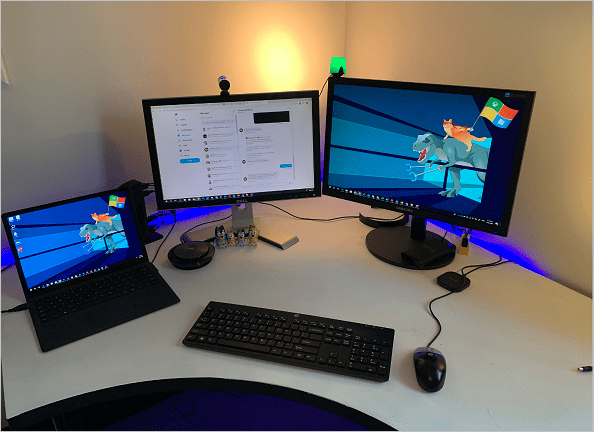 When I walk into this room at 8:30am and close the door, I'm at work.


The right tools for the job
Microsoft Teams
Our business made the switch to Microsoft Teams some time ago from Skype for Business. This has played a major part in the ability for me to be able to work from home.
Whereas before, colleagues would send document updates via email to each other, and then call via mobile to talk through the document, we can now collaborate live within the same document whilst simultaneously having a voice or video call.
This has not only completely eradicated the issue of having multiple versions of the same document, it's significantly cut down the number of internal emails sent within the org.
Internet
It goes without saying, but having a reliable Internet connection can make or break your working environment. I live in an area that's serviced by the NBN (National Broadband Network) here in Sydney, and have a fast, reliable service.
This is vitally important as I spend a large portion of my day on Teams voice and video calls and meetings.
Having a backup is equally just as important too. I have ample 4G coverage from my mobile phone provider and am able to hotspot from my phone to my laptop should my NBN service drop.
Equipment
Once my desk had been set up in the right place, I set about ensuring that the stuff I put on it helped me get my job done.
Dual displays is an absolute must. In fact, there's some stats out there that suggest using dual displays increases productivity by 20-30 percent! Being able to have Teams on one screen, and a document, web page, PowerPoint or else on the other means less switching between apps, and allows me to get more done. 
I also wanted to ensure my laptop, and mobile phone is always charged. I went out and bought an additional charger for my laptop, and a dedicated wireless charging dock for my mobile. These both permanently live on my desk, ready to go. I have separate chargers that live in my work bag should I need to travel, or visit a customer in the city.
Speaking of travelling, I found it to be a huge pain to have to unplug and replug multiple cables to/from my laptop when I returned home. To simplify this I invested in a docking station, along with a comfortable wireless keyboard and mouse.  This meant I had just one USB cable to connect to my laptop to get back up and running fast.
Lastly, I invested in a Microsoft Teams desk speaker phone, a wireless headset and a busylight. The Teams desk speakerphone lets me put calls on speaker easily, whereas the wireless headset lets me wander into the kitchen during a call to top up my coffee. The busylight lets the girlfriend know that i'm on a call should she need me.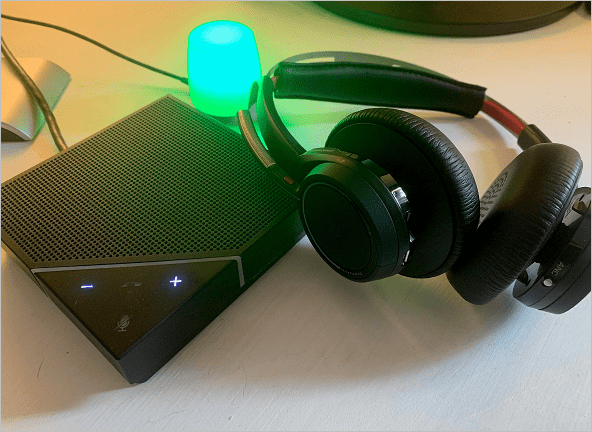 If you'd like to see a list of supported Microsoft Teams devices, check out this link: https://products.office.com/en-us/microsoft-teams/across-devices/devices
Lighting
An area that I didn't originally focus on was having adequate lighting.
The lighting in my new office space was originally not bright enough. I'd often get headaches and blurry vision from working in low light. I solved this by purchasing a desk lamp, and upgrading the bulb overhead to something brighter.


Cultural Shifts
One of the largest unforeseen challenges with working remotely is the shift in culture.
One of the challenges identified early on was with Presence in Teams. When you're working with colleagues close by, you can see if they're free by simply looking. When you're not in the same space, it becomes more challenging.

Teams solves this issue by showing the presence of each and every user. This is awesome, and incredibly useful. However, when it's misunderstood or worse – abused, it becomes a problem. 
Consider a scenario where you get a call on your mobile from a customer. You take the call and walk away from your desk at home. The call lasts an hour and you come back to your desk to 5 IM's from a colleague asking where you've been for the past hour and why your status showed as "away" during work time.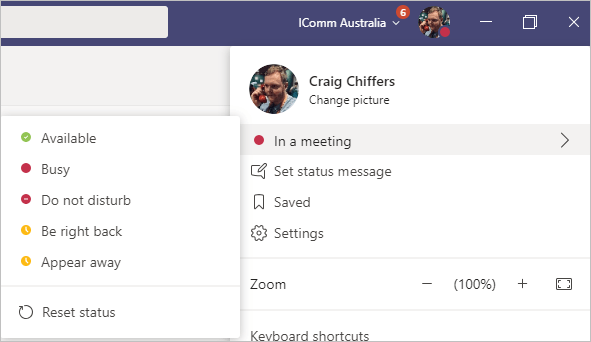 Or, what if you don't like printing documentation and instead prefer to read PDF's on your iPad on the couch away from the desk? Again, your status may show "away" which can be misinterpreted as "not working", rather than simply "away" from the desk.
On top of this, if you have back to back meetings all day your presence will show your status as "Busy – in a meeting" for the entire day. Your colleagues won't know that your meeting finished up 10 minutes early and that you're around for a quick chat before the next one.
These are common issues among workers who are new to working remotely, or nervous colleagues or bosses that may want to check in every now and again. They're easily solved though by utilising presence and status within Teams effectively.
Back from a meeting early? Set your status as "Available". Stepping away to take a call or read something? Add a status message that says so.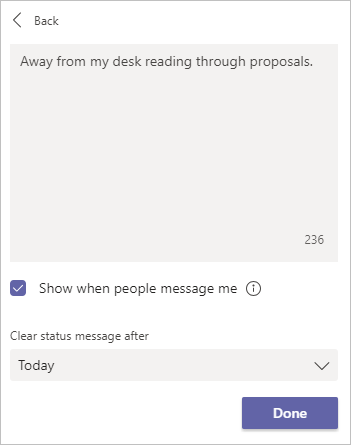 Presence is incredibly powerful when it's used to help everyone.


Managing Distractions
Let's face it. Working from home can be dangerous. You're surrounded by constant distractions.
Here's a few that immediately come to mind:
TV, Xbox, Netflix
Chores – Laundry, dishes, cleaning
People and pets
The shops/beach/anything else you live close to
By purposely setting my work space up away from the sofa and the TV, I limit my chances of sitting on the couch all day and binge watching Netflix, rather than working.
Second to this, I always ensure I get dressed as if I'm going in to work. From a Psychological point of view, when the PJ's come off and the shirt and jeans go on, I'm at work.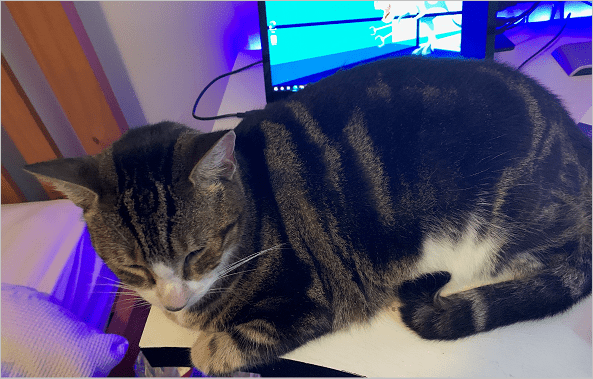 I live with two cats – Jaxon and Louie. They love nothing more than to sit on my desk when I'm working, which is lovely until they sit on the keyboard!

Louie has appeared in a number of conference calls, which .. can often cause unexpected results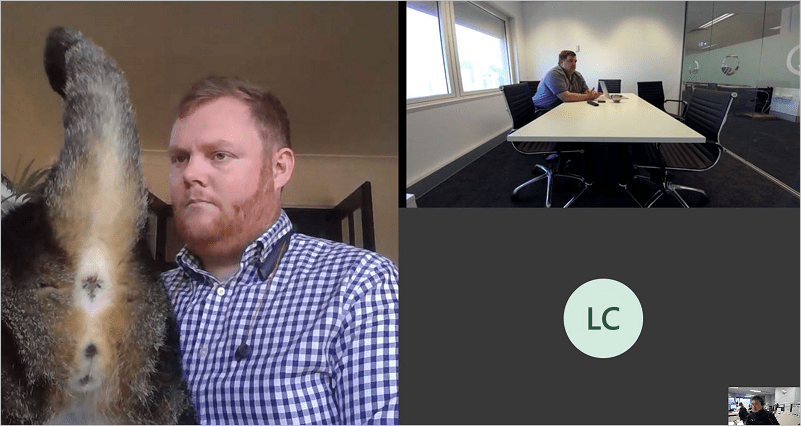 Health
Working from home meant I suddenly had far fewer options for lunch. I'm largely reliant on what's in our fridge and cupboards. This often means that if i'm not careful enough to plan ahead for the weekly shop, lunch ends up being takeout from Uber Eats.
On top of this, that exercise that I was getting walking to the bus and the office every day disappeared. The walk from the bedroom to the guest room certainly doesn't cut it.
This all equated to me putting on about 5kg in the space of a few months. Certainly not healthy.
How did I solve this? A number of ways:
I purchased myself a George Foreman grill so I can easily cook chicken, fish, veggies or steak at home. The grill means I can easily set and forget for a while – perfect for those lunch time conference calls.

Secondly, I try to that I get out into the sun and fresh air at least once a day. Both are super important for both your physical and mental well-being.


Social
Humans are social creatures. I thrive when im around people.
Being surrounded by upwards of 100 people, catching up with colleagues and finding out how their weekend was as you pour another cup of coffee, joining in on an office conversation about the latest episode of a TV show you're all watching. Going from this to suddenly being alone 8 hours a day, 5 days a week is a huge change, and it can affect your well-being.
To solve this, I ensure that I spend at least one day a week either at a customer site, or with one of our partners. I organise coffee catchups, breakfasts and lunches with both my colleagues and customers, or head to the local shops during my lunch break at home.
It's also nice to call a colleague Monday morning over video and just chat for 10 or so minutes about the weekend. Sure, you're not there in person, but that story of how you forget where you parked the car at the airport is still just as funny.


Final thoughts
So, would I recommend working from home 5 days a week? Absolutely. 
It turns out that working from home full time isn't just about no longer contending with peak hour traffic, or not having to leave the comfort of your PJ's to go to work, it's an entire culture shift from the way you're probably used to working.
It takes effort. It requires that you set rules and boundaries, that your colleagues shift their thinking and ways of working with you, and makes taking care of yourself  – both physically and mentally vitally important.
Of course, it may even now be a necessity for you in light of recent events with COVID-19. Because of this, Microsoft want to support you during this transition and are offering a 6 month free trial of Office 365 E1 – which includes access to Microsoft Teams.

You can find out more about this here: https://www.microsoft.com/en-us/microsoft-365/blog/2020/03/02/working-remotely-during-challenging-times/